A Pirate's Journey
A Pirate's journey doesn't end on East Carolina University' campus. Our students excel after graduation, establishing their careers as they join the workforce or pursue professional degrees.
ECU offers the widest range of academic programs in North Carolina, with most in disciplines that are currently in high demand in our state. For some programs, ECU is the only university offering it in the state — and one of only a few in the nation.
At ECU, it's important to us that you finish what you begin. ECU's retention and graduation rates are well above the national average for four-year public institutions. Within the University of North Carolina System, we're first in the total number of education and health professional degrees awarded and are second in professional practice doctoral degrees.
Hard Work Pays Off
ECU graduates excel in their fields, outearning their peers from other public universities after one year in many disciplines, including: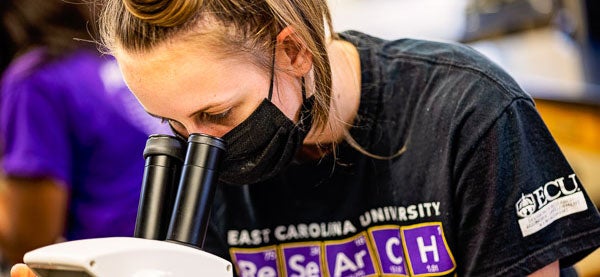 Rankings and recognition
ECU's academic and research reputation continues to rise. The university has been recognized by the Princeton Review on its annual best colleges list and by Newsweek as the top online university in North Carolina.
ECU has also been recognized for its ability to help our students achieve new heights, ranking in the top 10% of schools in the country on the social mobility index — and helping our graduates find great-paying jobs in areas of need.
Career Focused
ECU graduates succeed in a variety of professional fields, including health care, education, business, computer technology and more. Pirate alumni work in all 50 states and around the world.